� Freaks | Main | Maxwell, Old School �
November 23, 2003
Boise, The Hood
If I wasn't such an extremist, I think I'd move to Boise. You see, it has all the charm of Seattle without the traffic. It has all the snow of Denver but it stays in the mountains. It has all the seasons, the major vendors, and wireless internet access at the major hotels. What more could you ask for?
Market share.

Boise is just not large in any way other than the sky. That's not a bad thing, it just doesn't have the hook. The biggest problem with Boise seems to be should we grow it or not? Boise, as a 'big city' resembles nothing so much as Austin before the semiconductor boom. VCs are scoping it out and suggesting that the state coordinate its spending at Idaho universities so as to maximize the education & research potential needed for the phenomenal growth. Folks from Los Angeles like me come to Boise and see it as a very cool secret. All it needs is two more big businesses and then...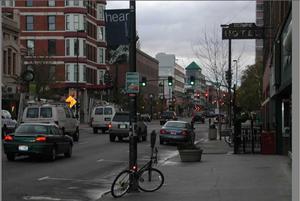 But Boise is fine as it is. There's a very walkable downtown with 'wheels up zones' painted on the curb ramps although I saw nobody younger than 21 all week. I got a chance to dig most of the more popular restaurants, especially Zutto the sushi joint and Cottonwood just off the river. I also had a great steak sandwich over at Bitter Creek and some excellent fried oysters at Bardenay. The Zutto sushi was only average but the ambience of the place was very West LA. Cottonwood wins the award however. Great service, a big elegant ski lodgy
feel and a truly superb seafood pasta.
In Boise, you can get 4 or 5 acres and a two story house for 250,000. In many ways, that's all that needs to be said.
It's an attractive place and I never found anything backwards about it, although one could hardly call it a multicultural mecca. But since I prefer the northwesty mountain ethic, it's a bit less neutral than any lack of racial diversity would imply. All folks who go for four wheel drives and snow sports are cool with me, OK well most folks.
If you get up there, check out the Games & Books, and have a homebrew gin martini at Bardenay. Get your butt in a seat at the fabulously restored Egyptian Theatre and have a beer at the Red Feather. After you do that, get to know some folks. I didn't have enough time.
Posted by mbowen at November 23, 2003 08:57 AM
Trackback Pings
TrackBack URL for this entry:
http://www.visioncircle.org/mt/mt-tb.cgi/1092