� Vivica vs Vanessa | Main | Duh! �
April 23, 2004
People of The Dons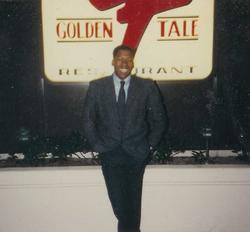 The other night, I met the spousal unit's new partners. I don't want to reveal too much but we're involved in a venture that I think will be heralded from coast to coast. Basically, what happens when you put together a brother like me, barbecue and jazz? If you like that idea and can imagine it happening at a cool spot in Hollywood, then you have an idea about the venture. It turns out that these brothers go way back and are intimate with the lifestyle that was everything exciting about 'The Dons'.
If you are black and know Los Angeles, then inevitably at some point in your life, you had to be overcome by the massive weight of the social scenes generated by the money, brains and style of The Dons, Baldwin Hills, View Park and Ladera. The Dons are basically a neighborhood on the north facing hills of Baldwin Hills. The streets are named Don Felipe, Don Miguel, Don Milagro, etc. Built by the same developers as built Beverlywood, Cheviot Hills and the modern houses on Vie Del Rey in South Pasadena (Monterey Hills), these were where the sons and daughters of the bourgie lived and played. And man do I mean played.
One of the things I haven't done in a very long time, but do from time to time is to remember back in the day to the lives of myself with the Party People. When I think of upscale partying and the Party People, I think of the young adults of The Dons as the leaders of the pack. You see during the 80s, a revolution in paryting was going on. Prior to then, in the late 70s, it was all about house parties, and while house parties were still happening, the black club scene was exploding in neighborhoods that had never seen the like from El Segundo to Beverly Hills. So here is an intro to a book that needs to be written one of these days, which is a canonical rundown of the happening clubs of black LA in the Arsenio Hall / Cosby 80s.

I suppose if you have to start somewhere, you would start with Uncle Jam's Army. Because what they did, along with the Boss Bugs of LA, was get people to caravan in their cars to the LA Sports Arena where the DJ would spin records for up to 3,000 people. If you have ever been to a dance party that massive, you understand completely what George Clinton was talking about when something about the music gets into your pants. If you can remember the Shel of LA or any of a dozen other DJs who moved us to the floor (paste half a dozen names here), then you have an idea of the crowds that populated the club scene. The impact of that music and dancing scene transformed LA black radio, LA itself and black culture at large. Nobody can deny what NY did to generate hiphop, but the style and sophistication was all LA. LA doesn't get the credit because of the way hiphop was nourished in the hands of people other than us. But there will be other people to tell the stories of LA Reid, Babyface, Jimmy Jam and Terry Lewis. Just don't forget them when you're moaning about 50 Cent.
Now among those crowds were the people who made black bourgie LA legendary, but I'm only going to mention one name, and I assure you that name is sufficient to bring a freight train of memories and associations. Her name is Cara Wallace. You could fill a club on the word that she would be there. There were other divas on the scene but Cara and her sister were legendary. Where could you find them?
Glitter, 24K, Paradise 24, Disco 9000, Osko's, Golden Tale, Tiberio's, Carlos & Charlies, The Greenhouse, Danceteria, The Red Onion, The Bit'n Apple, The Jockey Club, The Chamineh, The Ramada, The Red Lion, Bourbon Street Grotto, King King, Funky Reggae, Moody's Westwood, The Speakeasy, Flippers, Starlite, Reseda, Eve After Dark, Consolidated Plaza, Flanagans, Popcorn, Pizzazz, Peanuts, Crush Bar, Carolina West, Five Torches, Little J's, Simply Blues, and probably most legendary of all Friday's at the Marina where nobody actually danced.
There are a dozen others I forget the names of, the RBD club on Manchester near Crenshaw, the club on Santa Monica and Sepulveda, the tiny upstairs club on Beverly just east of La Cienega.
All of that is to say that in the years before I tossed my BAP life on the funeral pyre and went to live in Brooklyn, LA's upscale black party scen was just paradise. It was all about the look and feel of the people from the Dons that set the mood. Graduates from private Catholic highschools and the best public schools like Palisades were the movers of the pack.
Although there's much too much to talk about here, the story that has never been told is how influential this crowd was on what's bling in hiphop today. Because all of those clubs and all of those parties were there before hiphop went mainstream, and the bourgie end of it even had problems with Rick James. So there's a big dollop of class and sophistication embedded in that buppie scene that was stripped of it as the most monetarily successful of hiphoppers emerged in the 90s. The place to start studying that was what happened when the drug dealers started coming to Friday's.
Before I close, I should mention one more name, because without it, the extent of this scene's influence could not really be appreciated. The name is Earvin Johnson.
I jawed with the spousal unit's new partners until 1 in the morning about the clubs, the restaurants, the music and the people of that era. We were deeply a part of it and it was deeply a part of us. Hearing some updates, I had no idea how deep the rabbit hole went when it came to some of the deeds and doings of the people of the Dons. One of these days, half the story will be told.
Posted by mbowen at April 23, 2004 10:29 AM
Trackback Pings
TrackBack URL for this entry:
http://www.visioncircle.org/mt/mt-tb.cgi/1811
Comments
I gotta link this. It's too good. Thanks.
Posted by: joseph at April 23, 2004 11:26 AM
Great post. I love it when you pen these missives on this LA.
Posted by: Juliette at April 26, 2004 12:00 PM
I linked and shared this item with my homies. We are of the 70's era: Mt. Carmel, Loyola, St. Mary's Academy, Immaculate Heart, Notre Dame and of course, Pali & Dorsey!. I don't think I missed a party in the Dons between 1970 and 1980! Thanks for sending me slippin back down memory lane.
Posted by: Marty at May 5, 2004 04:00 PM
There's so much more to talk about in this. I will try to write more about it. What I'm trying to do is remember the name of the brother who used to be at *all* the parties and he used to wear a gorilla mask.
See, I remember a specific night at Paradise when he was there and almost got into a fight with one of the Milli Vanilli boys (who was short!).
Posted by: Cobb at May 5, 2004 04:24 PM
Does anyone from this funky jive circut know a Bob Bishop (William Robert Bishop). He was the owner of a club mentioned here, The Five Torches. I'm his grandson and I have never met him. If anyone would like to help help out a young soldier email me at DonAlves3@hotmail.com.
Be Cool Jive-Turkies
Posted by: Don at June 17, 2004 10:04 AM
Where does the professional black crowd go for happy hour and also to dance?
Posted by: Peggy at November 19, 2004 06:59 PM
Posted by: Cobb at November 19, 2004 07:25 PM