� The Devil I Know | Main | Fibonacci �
June 19, 2004
Death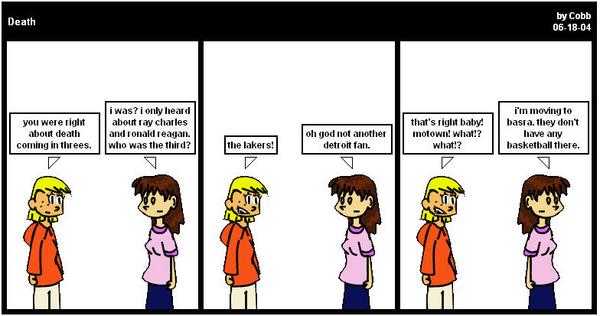 Posted by mbowen at June 19, 2004 08:50 AM
Trackback Pings
TrackBack URL for this entry:
http://www.visioncircle.org/mt/mt-tb.cgi/2111
Comments
Posted by: Scott at June 19, 2004 01:54 PM
LOL. It was ugly, wasn't it?
Posted by: Juliette at June 20, 2004 03:02 PM
Motown is Frotown. And we are STILL high from smok'n the Lakers. Is there anything else going on in the world? It's getting time to come down a bit and check on the rest of the news.
Posted by: Lin at June 21, 2004 04:25 AM