� Massive Shooters & Adhoc Clans | Main | Bobby Soxers �
December 02, 2004
The Big Ten
I've picked out a few of the hundreds of pictures and hours of video that have recorded the event for Cyndi and I. These make the place look a lot more sparse than it actually was, but I didn't want to put a bunch of folks pictures out on the net for no good reason.
We all had a great time running the gamut of the best emotions.




I am being reminded of how much love I have gotten over the past 15 years she has known me and the 10 we've been married.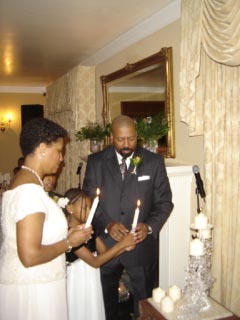 Lighting the unity candles. No wax burns this time.

Tony cut us some hearts. He's the man when it comes to catering.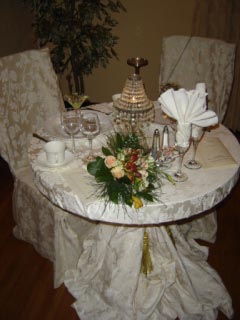 In order to avoid the politics of proximity, we sat at our own little table.

I don't know which of the neices or nephews drew this, but it's completely adorable. Nice to know you're making a good impression.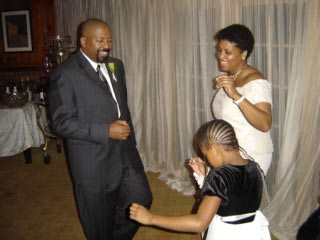 This is the least embarassing flick of me getting jiggy that I could find. F9 still has to watch her feet when she dances. I'm so glad there's no MTV in the house.

Awww.

Man we used to look really good, and slim.

Posted by mbowen at December 2, 2004 09:42 AM
Trackback Pings
TrackBack URL for this entry:
http://www.visioncircle.org/mt/mt-tb.cgi/2921
Comments
Brutha, you and I have a striking resemblence to each other. Maybe I have some family in Cali.
Posted by: Solomon at December 2, 2004 05:11 PM